Our Favourite Music Videos
L30 Robinson – Text
Recorded, Mixed and Mastered at our studio, our very own L30 Robinson smashes this nice vibey Hip Hop tune. We shot the video at a performing hall and in the woods for a nice contrast along with our friend Meshack providing choreography.
Ell.MS x Maxwll – Dr Jekyll Mr Hyde
This video from our own head of marketing was a Halloween special and shows a creepy story of 2 people kidnapping a poor bloke, tying him to a tree, torturing him and setting fire to him. Watch at your own risk.
Har-Q – Lean
A Northampton legend, Har-Q called Menace for this jumpy, upbeat banger. We used our Astera lights to make Northampton into a neon dream, bringing the looks and energy to match the tune. One of our all time favourite shoots.
Recording
With our acoustically treated studio and custom-built vocal booth, we can record your guitars, vocals, and other instruments with clarity.
MIXING
We'll take your raw tracks and turn them into polished, clear, and radio-ready songs, ensuring an awesome listening experience for your audience.
MASTERING
We can also master your tracks, ensuring a loud and coherent final product that sounds great on all types of audio systems and environments.
Production
We can make instrumentals custom to you,  meaning you don't even need to turn up with a beat! (Starting from £60)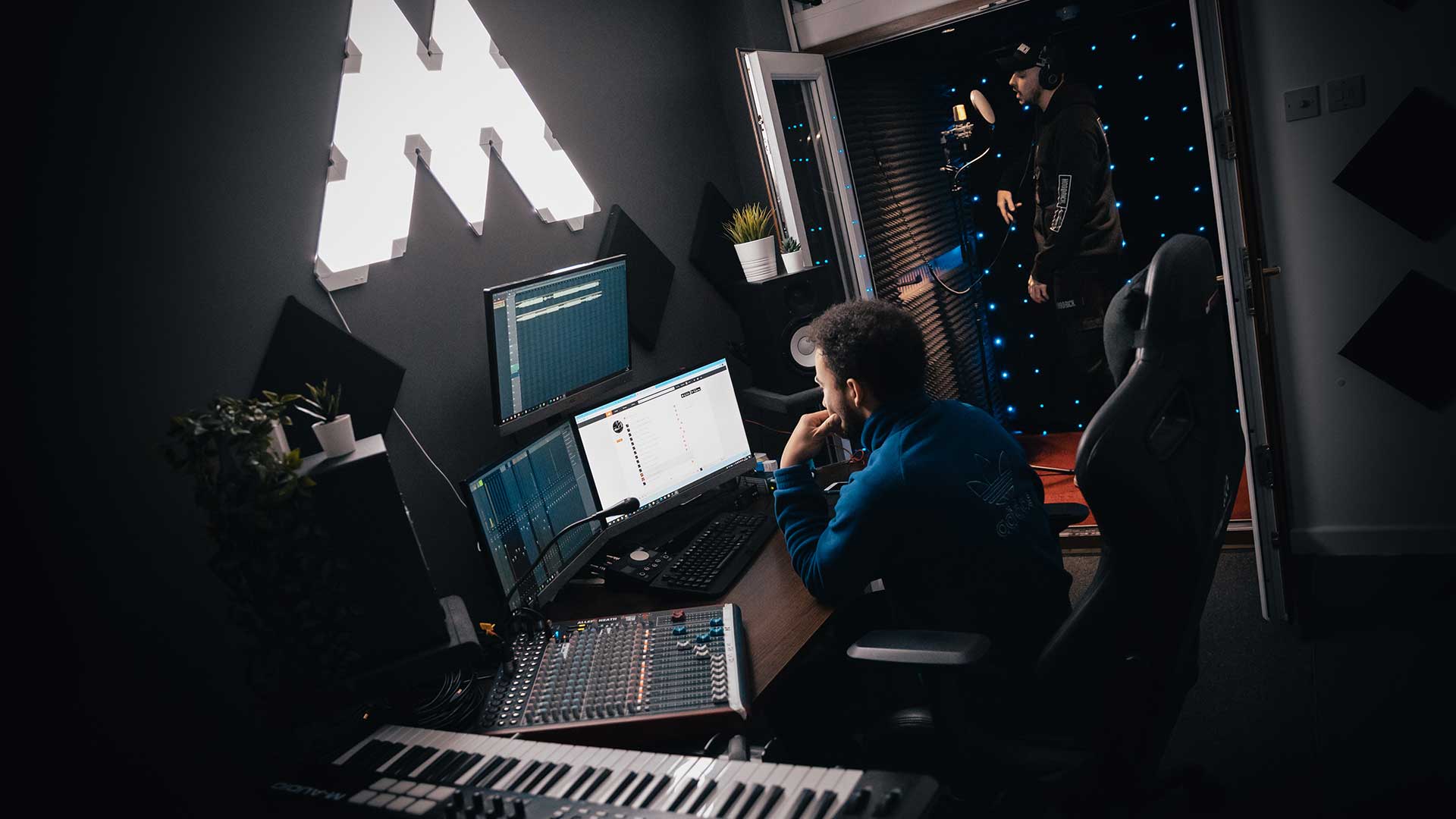 AKG C414 XLII Condenser Mic
Allen & Heath ZED-18 Mixer
Yamaha HS 7 Studio Monitors
Menace Media is proud to offer a fully acoustically treated music studio right in Northampton Town centre. Our studio comes complete with a vocal booth, fully trained engineers and a good vibe for music making. The reason we're different from other music studios is because we match your energy. We commit fully to make sure that you leave the studio with a finished track ready to release. We're the one stop shop to get your music sounding radio ready.
Speaking of the radio, we have a long list of artists that have come through to our studio and have left with tracks being played on local radio stations. We record, mix and master your track up to industry standard to make sure you can release your track without the fear of industry heads criticizing your efforts.
We're in the middle of town centre, only a 3 minute walk from Northampton Train Station and next door to a handful of hotels, restaurants, and venues, meaning we're perfectly accessible for artists all over the UK. If this sounds something like you're interested in, book your session today!